We cater for men, women and children so that the whole family can feel special.
With years of combined experience between them, our team of stylists can offer everything from a tidy-up trim to a full restyle. We also offer root touch-ups and hair colour journeys only dreams are made of! As a Wella salon, the team also have a wide and exciting array of colour options with the latest technological advances at their fingertips. The team can also advise you on our latest product offerings so that you can keep your style and colour in the best condition until it's time for your next appointment.  
Read more
If you fancy a change of style or a new colour, visit Bellessa Lounge for a consultation where a member of the team can advise and inspire. Feel free to bring some examples too!
The team at Bellessa Lounge can also help you with weddings, proms or any other special event that requires a hairdo to be just that little bit 'extra'! All our consultations are complimentary so feel free to come and see us to discuss your needs.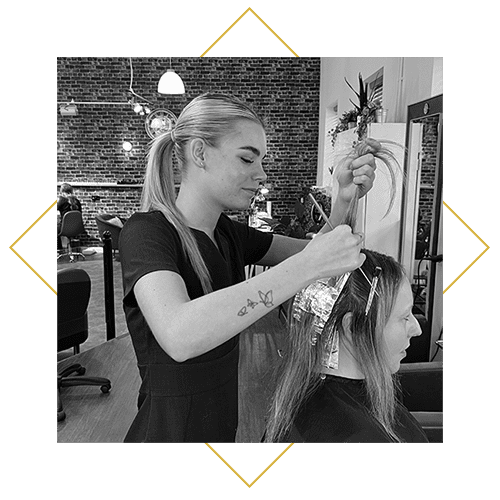 Children and Young Adults
Speak to our team for any special requirements you may have for your children, we're always happy to help. Please note for children and young adults there may be an extra charge if they have a lot of hair and appointment time and expertise will need to reflect this.
| | | | |
| --- | --- | --- | --- |
| | | Graduate Stylist | Senior Stylist |
| Under 5's | Spray down and cut | £10 | £10 |
| 5-9 years | Spray down and cut | £14 | £14 |
| 5-9 years | Wash, cut and blow dry | £20 | £20 |
| 10-14 years | Spray down and cut | £18 | £18 |
| 10-14 years | Wash, cut and blow dry | £22 | £22 |
| 14-16 years | Spray down and cut | £20 | £20 |
| 14-16 years | Wash, cut and blow dry | £25 | £25 |
| | | | |
| --- | --- | --- | --- |
| | | Graduate Stylist | Senior Stylist |
| Restyle, wash and finish | For when you want a complete change, long to short or pixie or bob! | £42 | £52 |
| Wash, cut, blow dry and finish | For when you want a trim or the shape put back and tidied up. | £38 | £48 |
| K18 Hair Treatment add on | K18 is an incredibly clever invention. It has a patented ingredient which amazingly reconnects the molecular (polypeptide) chains that hair is made from. Its crazy that each single hair is made up from billions and billions of these polypeptide chains! In essence this is repairing the hair at its molecular level – from the very deepest layers at the heart of the hair. | £20 | £20 |
| Wash and wet cut | For when your hair needs a trim, but you don't have time for a blow dry! | £24 | £26 |
| Signature blow out | For when you're off out dinner? Dancing? None of our business? Extra time will be spent on making you look a million dollars with amazing hair for your next assignment! | £35 | £45 |
| K18 blow out | Add the amazing K18 treatment to our Signature blow for an amazing finish. | £40 | £50 |
| Fringe trim | For when you can't see out anymore but the rest of your hair isn't ready to be trimmed! | £5 | £5 |
| New fringe or bangs | For when you want a new fringe or bangs cut into your current style, but that's it!! | £10 | £10 |
| Gents wet cut only |   | £20 | £22 |
| Gents short cut and dry |   | £22 | £25 |
| Shampoo and set |   | £32 | £32 |
| Over 65's cut and blow dry |   | £30 | £35 |
| | | |
| --- | --- | --- |
| Reset package, also includes take home products. | Short hair | £150 |
| | Medium hair | £200 |
| | Long hair | £250 |
| Quick Fix |   | £25 |
| Quick Fix + |   | £28 |
Graduate Stylist
Senior Stylist

Full head foils

Your treatment also includes a cut/trim, blow-dry and finish

£120

£140

Half head foils

Your treatment also includes a cut/trim, blow-dry and finish

£100

£120

Toner after foils

£30

£33

Toner

Your treatment also includes a cut/trim blow-dry and finish

£70

£78

Full head bleach with Toner

Your treatment also includes a cut/trim blow-dry and finish

£127

£135

Bleach roots only with Toner

Your treatment also includes a cut/trim blow-dry and finish

£107

£110

T-section

Your treatment also includes a cut/trim blow-dry and finish

£90

£93

Money piece, face framing

Your treatment also includes a cut/trim blow-dry and finish

£45

£50

Colour between foils

When your roots need a refresh during half or full head foils

£30

£30

Balayage

If you've never had a Balayage with us before, you'll need to come and have a consultation with one of the team to discuss the look you want to achieve. 

From £125

From £125

Colour change process

If you decide you want to change your colour completely, or if heaven forbid it's not gone quite right somewhere else! We're here to help! You will need a consultation so that we can help you achieve your look.

From £125

From £125

Permanent full head colour

Including cut, blow dry and finish

£105

£105

Permanent root refresh

Including cut, blow dry and finish

£85

£85

Semi-permanent full head

Including cut, blow dry and finish

£90

£90

Semi-permanent root refresh

Including cut blow dry and finish

£76

£76

Olaplex Colour treatment

Add on to any colour service

£15

£15

K18 

Add to any colour service or styling service

Medium hair: £20

Long hair: £25

Medium hair: £20

Long hair: £25
| | | |
| --- | --- | --- |
| Quick up do | Off out for the evening, or afternoon tea? We've got you! | £30 |
| Prom consult and trial | Bring all your inspiration pics and any accessories you might want to use and we can help you look perfect for that last school party. | £30 |
| Prom hair | Time to shine! | £55 |
| Signature hair up | Have a party or event where you just need to look and feel like a star? Then we can achieve this for you! Bring us your ideas. | £58 |
| Bridal Hair consult and trial | Bring us your ideas, let us know how many of your party you'd like us to look after, if planned with plenty of time we can even arrange to come to your venue to save your stress! | £30 |
| Bridal Hair  | Package to be agreed after trial and consultation | TBD |

Sun - Mon: Closed
Tue: 09:00 - 17:30
Wed - Fri: 09:00 - 19:30
Sat: 08:30 - 16:30